PFALZBLICK WALD SPA RESORT, Dahn, Germany
With an undisturbed view of the Dahner Felsenland in Rhineland-Palatinate, vacation seekers at PFALZBLICK not only enjoy a relaxing wellness break, but also the highest level of comfort – supported by contactless access solutions from MESSERSCHMITT Systems.
The 4-star superior Hotel PFALZBLICK has increased in size from 11,000 to 55,000 square meters since 1987. In the idyllic location in the middle of the Palatinate Forest, the Maus family welcomes its guests to a large green area with a natural swimming pond, a sauna island and a spacious spa and vitality world – in keeping with the motto "relaxation is celebrating a break." In the garden wing of the resort complex, a total of 14 new double rooms and six spa suites for couples and families have been added since 2021 to make up the hotel's now total of 86 rooms and suites. In a relaxed atmosphere, varied culinary highlights are also provided – from Palatinate cuisine to Alsatian delicacies and weekly wine tastings.
Access control systems were to be upgraded as part of the resort's ongoing renovation and expansion work. For both the bedrooms and suites and the back-of-house area, the architectural firm Thurner Generalplanung started looking on behalf of its client for a suitable manufacturer who could also respond to specific customization requests. Cooperation with MESSERSCHMITT Systems started in October 2018.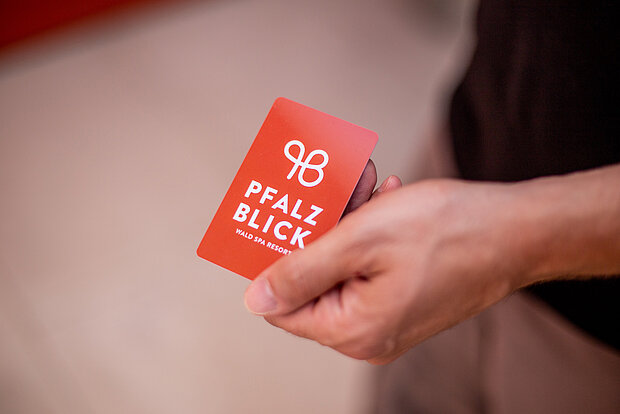 To achieve a suitable comprehensive solution, several systems from the Nuremberg-based manufacturer were used at the same time, enabling contactless access for guests and employees alike: depending on the area, the surface-reduced Magic Eye and Classic 3 on-door solutions or the discreet Magic Glass on-wall reader can be operated with the user's own keycard. The elevator reader is also simple and intuitive to use. Thanks to time- and authorization-dependent activation, it provides visitors with convenient access to rooms and spa areas.
All fittings are furnished with a brushed brass finish to blend seamlessly into the upscale surroundings. The keycards also feature a look that matches the PFALZBLICK: the logo and signet really come into their own on the bright orange background – and are sure to be remembered by guests.
In the very best of company
Back