Hotel locking systems: innovative access control for your hotel
Intelligent solutions for contactless access via keycard or smartphone
Our fully-integrated access control solutions with state-of-the-art RFID technology and optional Bluetooth connectivity offer you numerous special functions in addition to secure and convenient door opening. This includes cost-efficient integration into the Guest Room Management System without additional interfaces or separate data networks, enabling a convenient greeting scenario as well as various service scenarios.
HAFI Design 311 designed by Studio F. A. Porsche
Installation height of just 4 mm
Integrated holding spring mechanism
Satin finish with polished design edge all around
O-Key keycard made from FSC®-certified ginkgo wood
With matt, antibacterial surface
Individual printing and finishing option
Safe and flexible: access control via RFID keycard or digital key
Inexpensive and reliable guest bedroom management is a key component of successful hotel management. Modern access control systems from MESSERSCHMITT Systems ensure a pleasant guest experience coupled with security in everyday hotel operations. The electronic hotel locking system makes it possible to open doors using a smartphone or RFID keycard. This allows for a fast and easy check-in process – regardless of the size of the hotel. A digital key means your guests no longer need to queue at reception, but receive access authorization contactlessly on their smartphone and can go straight to their rooms.
The electronic hotel locking system offers you a high level of security and flexibility. Access to guest bedrooms can be controlled electronically and centrally, as well as in real time. Whether a luxury hotel or a budget-priced hotel: we adapt the access control solution to your requirements. Invest in the future, improve your guests' experience, and increase the efficiency of your hotel with innovative and customized MESSERSCHMITT technology.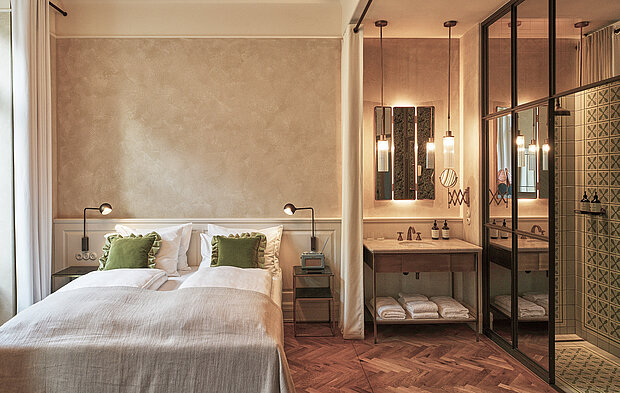 MESSERSCHMITT products in practice
Experience access control solutions from MESSERSCHMITT Systems in use worldwide.