Kulturhof Stanggass, Berchtesgaden, Germany
Where man and nature are in harmony: for the new building of the Kulturhof Stanggass, it was clear from the very beginning that sustainable concepts would be used – including for access control. In doing so, MESSERSCHMITT Systems provided impressive future-proof solutions that combine innovative functions with an environmentally-friendly vision.
Kulturhof Stanggass is at the entrance to Berchtesgaden, surrounded by the Watzmann and Königssee. In keeping with the theme "Here is Together," guests from all over the world find not merely a hotel, but rather a place of encounter and exchange. In addition to double rooms with mountain views, luxurious suites and spacious "Stadlhäuser" (townhouses), the Kulturhof offers visitors a diverse range of culinary moments of pleasure, varied events, beneficial recreational and exercise opportunities, and valuable experiences – all against a picturesque Alpine backdrop. The deep connection to nature is also reflected in a well thought-out timber construction that combines traditional with modern, sustainable architecture.
In addition to the sustainability aspect, which was to extend to the last detail, Managing Director Florian Wimmer wanted to ensure both comfort and safety for his guests. A future-oriented solution for access control that works with all common hotel systems was required – and quickly found after intensive consultation with MESSERSCHMITT Systems. This made it possible to install the solution in the new building in September 2021.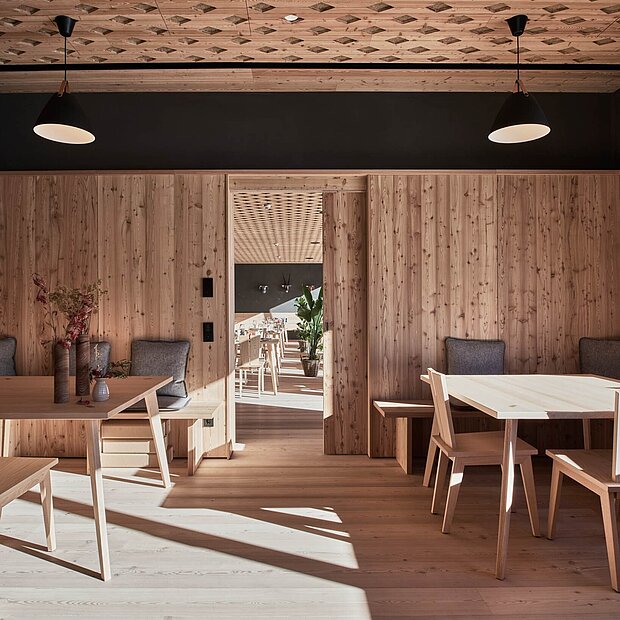 The "Magic Eye" RFID card system with elegant rosette fittings is used for a total of 34 bedrooms. Controlled access via the outside entrances as well as to the back-of-house area is provided by transponder smart card readers from the "Magic Glass" series, which, thanks to the discreet glass panel, blend in perfectly with the stylish minimalist interior. All MESSERSCHMITT solutions installed are based on open systems, so they are not only expandable, but also compatible for seamless connection to property management and point-of-sale systems – an aspect that the customer places particular emphasis on for future viability.
The environmentally-friendly RFID keycards are another highlight: made from biodegradable ginkgo wood, the organic keycards meet the high standards of sustainability while matching the natural look of the hotel. All cards feature the picture trademark of the Kulturhof Stanggass and can be reordered at any time from MESSERSCHMITT Systems and delivered promptly.
In the very best of company
Back