Hotel MOTTO, Vienna, Austria
How can nostalgic interior design be combined with the latest technology to create a harmonious guest experience? To meet these specific requirements of the Viennese boutique hotel MOTTO, MESSERSCHMITT Systems developed smart and individual solutions for access control and room management – for the bedrooms, restaurant, and public as well as back-of-house areas.
In the heart of Vienna, MOTTO opened its doors in October 2021 after extensive renovations and has since been welcoming guests from all over the world. For those who dream of the opulent luxury of 1920s Paris but do not want to forgo urban zeitgeist and modern comforts, this eight-story boutique hotel is the place to be.
In its 83 rooms, eight suites as well as in the restaurant area, the Hotel MOTTO attaches great importance to characteristic and high-quality furnishings that leave nothing to be desired in terms of comfort. For an authentic guest experience, the vintage flair of the historic building needed to extend to every last detail – including systems for room security and management. This entailed precisely adapting the user-friendly MESSERSCHMITT solutions to customer requirements.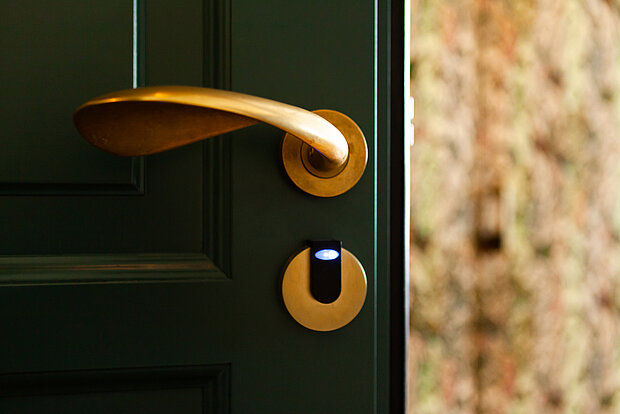 While visually restrained access control solutions with keycards are used in the public and back-of-house areas, the "Magic Eye" system is combined with Italian brass lever handle sets for the bedroom doors, and the color of all visible components is perfectly matched to the bronze design. The same applies to the luxurious elevator reader with intelligent floor control, which therefore so perfectly matches the nostalgic ambience.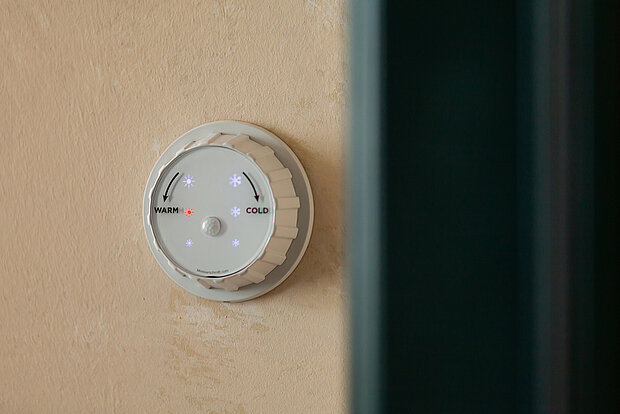 For comfort at any time of day or night, all rooms at MOTTO have a room control system that controls blinds, room temperature and lighting in an energy-efficient manner depending on guest presence. Thanks to sophisticated programming, a large number of actions can be triggered despite the deliberately small number of mechanical pushbuttons – and operation is intuitive. As a special highlight, the design of the room thermostat adopts the round, porcelain look of the switches. The heating and cooling signaling using symbols instead of numerical values completes the vintage flair
In the two-story CHEZ BERNARD hotel restaurant, the networked MESSERSCHMITT room control system adjusts the music volume depending on how the windows and doors are opened, while the automated blind control system ensures a pleasant room temperature at all times.
In the very best of company
Back