Emirates Palace, Abu Dhabi, United Arab Emirates
If you've ever dreamt of a vacation à la Thousand and One Nights, the Arabian fairytale "Emirates Palace" is just the place for you. Pure luxury is promised not only by the magnificent rooms and suites but also the associated access and room control systems from MESSERSCHMITT Systems.
Located directly between the Persian Gulf and Abu Dhabi's bustling city center, Emirates Palace is one of the largest and most luxurious hotels in the world. Originally built as a meeting place for the sheikh of the time, the fairytale palace with its golden domes and heavenly sandy beach is now a spectacular 5-star hotel. With its style inspired by the great buildings of the ancient Orient, this luxury hotel invites travelers to enjoy a unique vacation experience in another world.
Breathtaking sea views, opulent architecture, high-profile guests: where luxury is the order of the day, hotel furnishings must also meet the highest standards of function, design and contemporary styles. This is why MESSERSCHMITT Systems has been providing high-quality technical solutions for the Emirates Palace since 2020 and will continue this successful cooperation with full renewal of room and access management in 2022. The focus of the project is on customized products that leave nothing to be desired, both visually and functionally.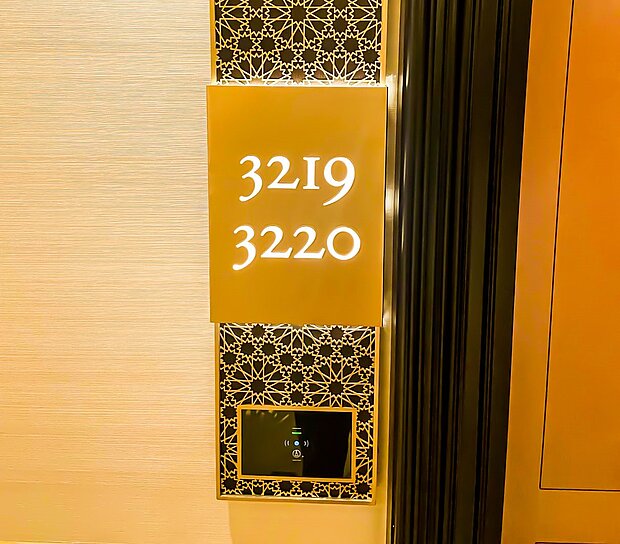 For the access control solution, the customer opted for transponder smart card readers from the "Magic Glass" series, which blend seamlessly into the characteristic wall design next to the doors. Each of the 343 rooms and suites will also be equipped with individualized "Luxury Line" room management solutions. Whether as a wall panel or convenient tabletop solution next to the bed: the MESSERSCHMITT panels with mechanical buttons allow intuitive control of drapes, lighting and room temperature, skillfully rounding off the luxurious interior with elegant surfaces made of high-quality stainless steel in a matt-gold finish. In addition, the new integrated housekeeping module simplifies room and guest management for employees.
Image copyright: iStock.com/35007, iStock.com/ShaoWeiwei
In the very best of company
Back